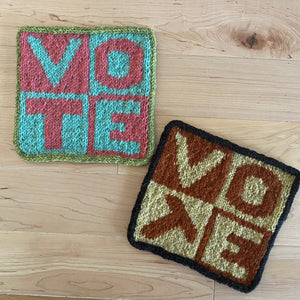 VOTE Banner
Sale price Price $ 0.00 Regular price
Your voice matters!
Voting is one of the most impactful ways people can ban together, make change, and support the causes they believe in. The knit VOTE Banner is the perfect way to practice a little craftivism and encourage others to take part in voting in local and federal elections. This banner knits up quick and is fun to make and display. Enjoy this free activist pattern (with 2 options) and read below for some actionable steps you can take to make your voice heard and support voter rights in your community and nationwide!
This is, and will always be a FREE Pattern, feel free to print copies and share with friends.
Craftivism Ideas:
While you knit a VOTE Banner, meditate on how you can use your unique voice, interests, and talents to make an impact on the next election.
Hang VOTE Banners in public places around your town with a tag including information for how to register to vote.
Gather your friends and organize a craftivism group! Knit VOTE Banners together and plan ways you can help turn out more community members to vote in local elections.
Sew your banner onto a sweater or sign to wear as you knock on doors to canvass for a candidate.
Knit and sell VOTE Banners to raise money for an organization working againt voter suppression.
Some organizations you might want to support are: